Midday Stock Roundup
Monday, April 4, 2016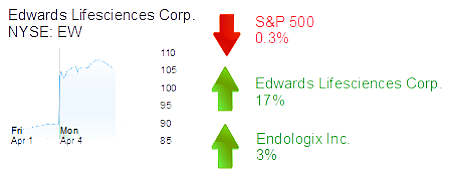 The S&P 500 was down 0.3% in midday trading to 2,067.24.
The Dow Jones Industrial Average was down 0.3% to 17,745.63.
The NASDAQ was up down 0.3% to 4,900.10.
The yield on a 10-year Treasury bond was down 1.1% to 1.77%.
The price of gold was down 0.3% to $1,212.
HEALTHCARE
Irvine-based Edwards Lifesciences Corp. was up 17% to $105.46 and a $23 billion market cap. The device maker reported a positive trial result for its main product. Five analysts maintained or upgraded ratings on its shares with price targets between $105 and $115.
Irvine-based Endologix Inc. was up 3% to $8.76 and a $715 million market cap. JP Morgan assumed coverage on the device maker's shares with an "overweight" rating and a price target of $11.
RETAIL
Anaheim-based Pacific Sunwear of California Inc. was up 45% to 32 cents and a $23 million market cap. Shares in the apparel seller traded by midday at 11 times its 90-day average and have nearly tripled in the last two trading sessions.