Hydrox Maker Expands Kroger Deal
Monday, April 4, 2016
Share this article: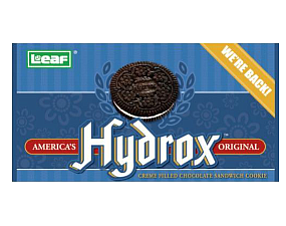 Newport Beach-based Leaf Brands said it will expand distribution of its Hydrox cookies via Cincinnati-headquartered Kroger Co. supermarkets.
The cookies had been in some stores; the new agreement allows for national distribution.
Hydrox also signed new agreements to be in Wegmans groceries in New York and in Dierbergs and Schnucks groceries in the St. Louis market, Leaf Brands said.
Publicly-listed Kroger operates about 2,800 supermarkets in 36 states and reported about $110 billion in total sales for the year ended Dec. 31. 2015.
Hydrox debuted in 1908 as the first sandwich cookie and was the No. 2 cookie brand behind Oreo when its then-owner Battle Creek, Mich.-based Kellogg's pulled Hydrox from shelves in 2003. Leaf got the rights to Hydrox in 2015.
The Business Journal ranked Leaf Brands as the No. 34 food and beverage supplier in OC with an estimate of $1.4 million in revenue for the year ended Dec. 31. 2015.