Midday Stock Roundup
Friday, April 1, 2016
Share this article: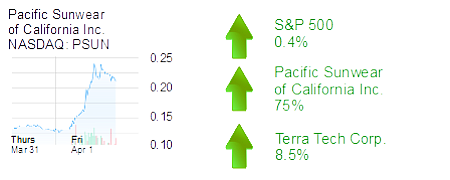 The S&P 500 was up 0.4% in midday trading to 2,067.33.
The Dow Jones Industrial Average was up 0.5% to 17,763.58.
The NASDAQ was up 0.6% to 4,897.82.
The yield on a 10-year Treasury bond was down 0.1% to 1.79%.
The price of gold was down 1.1% to $1,223.
RETAIL
Anaheim-based Pacific Sunwear of California Inc. was up 75% to 22 cents and a $16 million market cap on high volume. The apparel retailer had by midday traded shares at a rate 10 times its 90-day average.
MANUFACTURING
Newport Beach-based Terra Tech Corp. was up 8.5% to 27 cents and a $76 million market cap on above average volume. Shares in the maker of hydroponic equipment for agriculture and cannabis concentrates had traded at a rate about 50% higher than its 90-day average. The stock price was recovering from a decline this week following its annual report. The company closed on an acquisition today that's expected to add to earnings this year.
SERVICES
Anaheim-based Willdan Group Inc. was up another 8.3% to $10.45 and an $85 million market cap. Shares are up 25% this week after the engineering firm was awarded two contracts in the last week worth $123 million over the next six years.