Midday Stock Roundup
Friday, September 11, 2015
Share this article: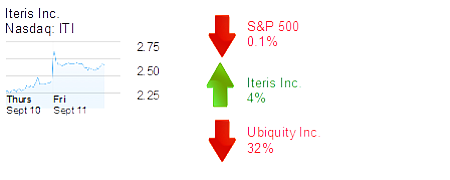 The S&P 500 was down 0.1% in midday trading to 1,950.01.
The Dow Jones Industrial Average was up 0.1% to 16,343.16.
The Nasdaq was down 0.1% to 4,791.92.
The yield on a 10-year Treasury bond was down 1.9% to 2.18%.
The price of gold was down 0.6% to $1,103.
SERVICES
Santa Ana-based Iteris Inc. was up 4% to $2.58 and an $83 million market cap. The sensors maker signed a contract to provide weather, soil and crop protection information to Walnut Creek-based Valent USA Corp. Shares traded at four times its 90-day average by midday. Iteris stock price is up 20% over the last two trading sessions.
TECHNOLOGY
Irvine-based Ubiquity Inc. was down 32% to 10 cents and a $12 million market cap. The multimedia applications provider by midday had traded shares at about double its 90-day average. Year to date, the stock price is down 90%.