L.A. Times Head Fired, Replaced
Tuesday, September 8, 2015
Share this article: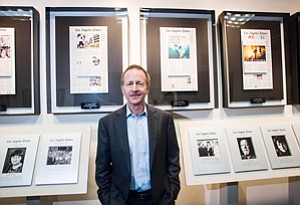 Austin Beutner was fired early Tuesday as publisher and chief executive of the Los Angeles Times and San Diego Union-Tribune, accordng to the Chicago Tribune, a sister publication that cited sources close to the matter.
Tribune Publishing Co., which spun off from Chicago-based Tribune Media last year, named 56-year-old Timothy Ryan, the publisher of the Baltimore Sun Media Group, the new publisher and chief executive of its California News Group, whcih includes the Times and Union-Tribune.
Tribune Publishing was "unhappy with the financial performance of the two brands, specifically the Los Angeles Times, which represents a third of the company's revenue," sources told the Chicago Tribune.
Beutner, on the job since August 2014, oversaw the acquisition of the San Diego Union-Tribune in May for $85 million. Prior to joining Tribune, he had reportedly considered buying the L.A. Times in 2013 with investor Eli Broad.
The news was first reported by Politico's Ken Doctor.
"The firing is an unexpected one, though one built on long-brewing differences between Beutner and his boss, Tribune Publishing CEO Jack Griffin," Doctor wrote in an article Tuesday morning. "It also follows quickly on Tribune Publishing's rejection of overtures from a would-be buyer for the Times, an acquisition that would have taken the Times private. The firing and sales overture rejection are not unrelated."
Doctor also said "insiders fear a cut of between $10-20 million in the newsroom," to be introduced by the new publisher at the Times. The newspaper currently employs 500 in its editorial department, with a budget of about $70 million to $75 million a year.
Tribune Publishing's shares were trading at about $11.13 and a market value of about $293 million.