Irvine Software Maker Gets $85M
Wednesday, October 28, 2015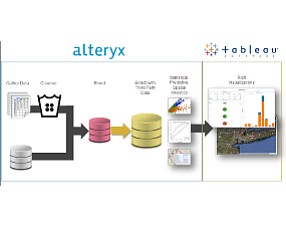 Irvine-based analytics software maker Alteryx Inc. has raised $85 million in a venture capital round led by Iconiq Capital in San Francisco and prior backer Insight Venture Partners in New York.
Palo Alto-based Meritech Capital Partners also participated in the round.
Alteryx will use the proceeds to boost sales and marketing efforts in the U.S. and internationally, expand its data analytics development team, and add employees locally and in offices in Chicago, Dallas, San Mateo, Colorado, Australia and the U.K.
"We see this an opportunity to go at the land grab for analytics," said Chief Executive Dean Stoecker. "Data analytics is not a North American phenomenon, it's a global phenomenon."
The segment is one of the hottest tech sectors primed for growth in the coming years.
U.K.-based Pringle & Co. forecasts the business intelligence and software services segment will hit $143 billion by next year, up from $76 billion in 2012.
Alteryx in the last year has doubled its customer base to some 1,000 companies, which pay a subscription fee for its analytics software to integrate data, monetize content, forecast sales, map out retail expansion plans, and compare sales and product placement, among other features.
The product, which costs about $4,000, is used in more than 40 countries.
Individual users typically include marketers, analysts, salesmen and financial personnel.
Rising demand and key links with big, influential cloud service providers have pushed Alteryx' annual revenue past $50 million.
The Business Journal earlier this month reported its latest partnership with Microsoft Corp. to provide integrated analytics within the Redmond, Wash.-based company's growing Power BI product designed to help users connect and understand disjointed sets of data in seconds.
Alteryx also has deals with Amazon, Qlik and Tableau.
It was founded in 1997 as SRC LLC and took the name of its core product in 2010, a common move in the software industry.
The company has raised $163 million to date, including a $60 million venture round last year led by Insight Venture Partners with backing from Toba Capital in Newport Beach and Palo Alto-based SAP Ventures, both of which were previous investors.
Alteryx employs about 100 in Irvine and 300 companywide.