Midday Stock Roundup
Thursday, October 22, 2015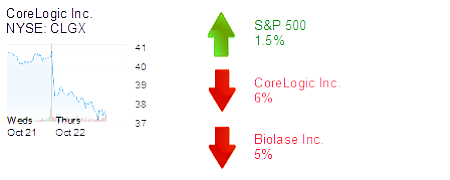 Major indices were higher in midday trading as the European Central Bank suggested today it could extend or initiate actions at a meeting in December to boost recovery on the continent.
The S&P 500 was up 1.5% to 2,049.42. The Dow Jones Industrial Average was up 1.6% to 17,444.60. The Nasdaq was up 1.4% to 4,907.01.
The yield on a 10-year Treasury bond was down 0.4% to 2.02%.
The price of gold was flat at $1,166.
SERVICES
Irvine-based CoreLogic Inc. was down 6% to $38 and a $3.4 billion market cap. The property information provider said yesterday after markets closed that revenue increased 5% to about $386 million in its most recent quarter while operating income declined 15% to $66 million and net income declined 43% to $28 million.
HEALTHCARE
Irvine-based Biolase Inc. was down 5% to 91 cents and a $52 million market cap. The dental laser maker had traded more than five times as many shares by midday compared with its 90-day full-day average.
TECHNOLOGY
Aliso Viejo-based Smith Micro Software Inc. was up 10% to 78 cents and a $36 million market cap. Shares traded at about twice its 90-day average by midday, regaining ground lost since Friday when the mobile software maker said it adopted a "poison pill" measure to keep Smith Micro from being acquired without its board's approval.