UCI Institute Gets New Name
Wednesday, October 14, 2015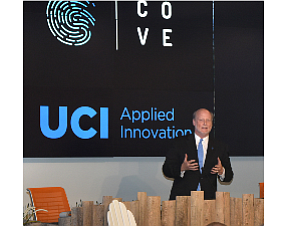 University of California-Irvine has changed the name of its Institute for Innovation to Applied Innovation.
Applied Innovation is housed at The Cove, the 31,000-square-foot building at University Research Park that had a formal grand opening last week.
IFI began last year with $5 million in funding from the Newport Beach-based Beall Family Foundation, to oversee patent commercialization and related efforts. UCI hired Dr. Richard Sudek, who formerly led Chapman University's Leatherby Center for Entrepreneurship & Business Ethics, to run the institute.
The Cove is to be a "hub of UCI's efforts to collaborate with the larger economy," the school said.
The facility will house the university's in-house programs in industry-sponsored research and commercialization, the local location of start-up pitch group 1 Million Cups, and venture capital groups, angel investors, and industry organizations.