Pyott Gives $6.5M to Alma Mater
Originally published October 7, 2015 at 11:14 a.m., updated October 7, 2015 at 12:08 p.m.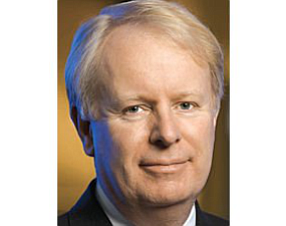 David Pyott, retired chief executive of Allergan, has donated 4.3 million pounds, or $6.5 million, to the London Business School's 100 million pound, or $152 million, fundraising campaign.
The school said in a release that Pyott's gift will support its Sammy Ofer Centre, formerly Old Marylebone Town Hall, which is under construction, as well as a program to create 15 new scholarships.
Pyott, a 1980 MBA graduate of the school, earlier gave $1.5 million to the fundraising campaign. The new donation brings his total giving to 5.3 million pounds, or $8 million, to the institution's comprehensive campaign.
He spent 17 years as chief executive of Allergan Inc., which was headquartered in Irvine, and grew its market value from $2.3 billion to $72.5 billion when he sold the company to Dublin-based Actavis PLC earlier this year. The combined company adopted the Allergan PLC name shortly afterward.
Pyott is vice chair of the board of trustees at Chapman University in Orange and a member of the dean's advisory board of the Paul Merage School of Business at University of California-Irvine.