Midday Stock Roundup
Monday, October 5, 2015
Share this article: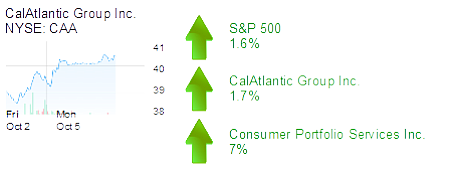 Major stock indices were higher in midday trading amid strength in oil prices and investor sentiment that an interest rate hike in the U.S. was less likely.
The S&P 500 was up 1.6% to 1,981.60. The Dow Jones Industrial Average was up 1.5% to 16,726.49. The Nasdaq was up 1.3% to 4,770.50.
The yield on a 10-year Treasury bond was up 2.5% to 2.04%.
The price of gold was flat at $1,137.
REAL ESTATE
Orange County homebuilders' share prices rose on eased expectations of a rate hike by the U.S. Federal Reserve Board.
Irvine-based CalAtlantic Group Inc. was up 1.7% to $40.31 and a $4.1 billion market cap. Irvine-based Tri Pointe Group Inc. was up 4.1% to $14.09 and a $2.2 billion market cap. Newport Beach-based William Lyon Homes was up 3.4% to $21.95 and a $666 million market cap.
SERVICES
Irvine-based Autobytel Inc. was up another 6% to $20.21 and a $212 million market cap. The automobile sales lead generator jumped about 17% in its previous trading sessions after saying it would complete an acquisition of online automobile auction site AutoWeb Inc.
Irvine-based Consumer Portfolio Services Inc. was up 7% to $5.40 and a $133 million market cap. The automobile finance company had an intra-day spike in its share price Friday and traded about three times the number of shares. In midday trading today its trading level was moderate.
BANKING
Impac Mortgage Holdings Inc. was up 6% to $17.70 and a $181 million market cap on the declining expectation of an interest rate increase. Impac is a residential mortgage lender.