Nekter Enters Sacramento
Friday, November 27, 2015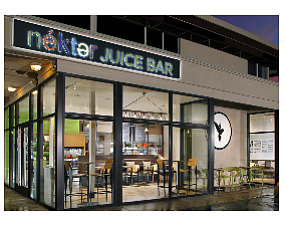 Nekter Juice Bar Inc. said Ohana Juice LLC would open two franchised stores in the Sacramento market.
Santa Ana-based Nekter has six corporate stores in the Bay Area. The two new stores—set to open in mid-2016 and early-2017—would be its first locations in the state capital with its first franchisee in northern California.
Nekter sees the chance for more franchised locations from Ohana in the Sacramento area.
"Both parties wanted to start with two," said Garrett Snyder, Nekter director of real estate. "There's plenty of room [in the market] to grow."
Ohana is a Sacramento-area affiliate of a family business that also operates about a dozen Taco Bell locations.
"They wanted to expand their portfolio," Snyder said.
Nekter has about 55 stores with most in California and company-owned.
It plans to break ground on a location in South Coast Plaza next month.
More news on Nekter's franchising efforts is in the Nov. 30 print edition of the Business Journal.