5 Honored at General Counsel Awards
Friday, November 20, 2015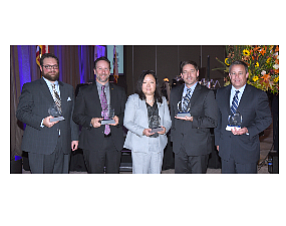 Some 400 attendees enjoyed dinner and an awards show at the Business Journal's 2015 sixth annual General Counsel Awards festivities on Thursday evening at the Hotel Irvine.
Five winners came in three categories covering public and private companies as well as rising stars of their profession.
Recipients were:
Suzy Lee, ITT Cannon LLC in Irvine (public company)
Shawn Murphy, Mazda Motor of America Inc. in Irvine (public company)
Chad Franks, Decton Group of Staffing Companies in Irvine (private company)
David Goodwin, Oakley Inc. in Foothill Ranch (rising star)
Jim Watson, St. Joseph Health System in Irvine (rising star)
The five were chosen for their "exceptional legal skill and accomplishments" from among 36 "top law professional nominees," according to a press release.
The event is meant to "acknowledge and celebrate the significant role that in-house counsel plays in the success of a business."
Erwin Chemerinsky, dean of the University of California-Irvine School of Law was master of ceremonies.
Each of the honorees will be profiled in the Nov. 30 issue of the Business Journal