SJC Socks, Apparel Brand Bought
Monday, November 16, 2015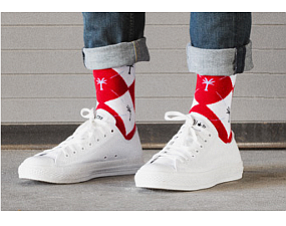 St. Louis-based Shoes.com said it acquired socks and apparel brand Richer Poorer Inc. in San Juan Capistrano on undisclosed terms.
Richer Poorer's products are sold at more than 800 retailers internationally, including at Bloomingdale's and Nordstrom.
"We've been acutely focused on building a strong brand identity, authentic voice and quality product since we launched five years ago," company co-founder and Chief Executive Iva Pawling said in a news release. "The next growth phase for Richer Poorer requires significant resources, e-commerce expertise and ability to scale, all of which the Shoes.com team brings to the table.
The sale of the company "will allow us to strategically accelerate our growth," Pawling said.
Shoes.com, owned by Hardy Capital Corp. in Vancouver, Canada, offers about 500 brands, including Converse, Frye, Michael Kors, New Balance, Sam Edelman and Vans, and serves more than 8 million customers across the U.S. and Canada.