El Pollo Loco Cuts Outlook
Thursday, November 12, 2015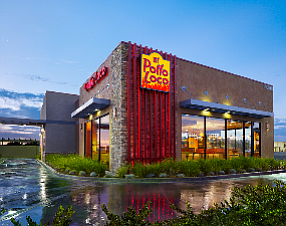 Costa Mesa-based El Pollo Loco Holdings Inc. reported mixed results in its most recent quarter and cut its full-year outlook on earnings and same-store sales.
Shares in the fast food chicken chain fell about 7% in midday trading after declining 5% Thursday prior to the earnings report's release after markets closed.
It said it earned about $5 million on revenue of about $89 million in its most recent quarter, compared with earnings of $26 million on revenue of $87 million year-over-year.
Comparable same-store sales grew about 1%, the company said.
El Pollo Loco revised downward its 2015 outlook on same-store sales and restaurant openings and said earnings would hit in the lower end of its previously announced range.
"We are taking actions to reengage our value-conscious customers and have several current initiatives to enhance the[ir] overall experience," said Chief Executive Steve Sather in a press release.
El Pollo Loco has about 415 locations, most in California.