El Pollo Loco Maps North Texas
Monday, November 2, 2015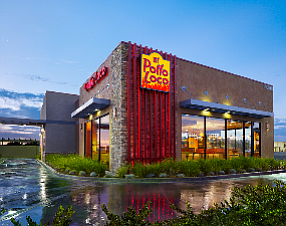 Costa Mesa-based El Pollo Loco Holdings Inc. has chosen the first six sites to start its expansion into North Texas next year, a news report said.
The fast food chicken chain said in May that it would add at least 20 restaurants in the Dallas-Ft. Worth area, seven franchised by Chicken Times Holding LP, an affiliate of local family office Henry Investment Group.
The first three company-owned locations are planned for Dallas, Fort Worth, and Allen, Texas. The first three franchised locations will be in Hurst, Bedford, and Grand Prairie. The report said the new units would be part of an in-development redesign for new locations of the chain.
El Pollo Loco also has restaurant clusters developing in Houston and San Antonio.
Lake Forest-based Del Taco Restaurants Inc. said last month it would close 12 of 13 locations in Texas, most of them in Dallas and San Antonio.
El Pollo Loco competes in the state with Addison, Texas-based Pollo Tropical with 10 locations and Pollo Campero with eight. The latter is a Guatemala-based chain whose investors include the Levy Family, which took Del Taco public in June.
Irvine-based Taco Bell Corp. has about 600 locations in Texas, according to a news report.