Broadcom in $37B Deal
Thursday, May 28, 2015
Share this article: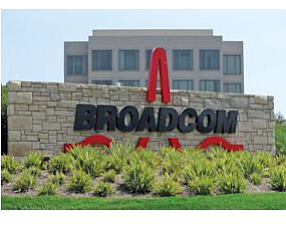 Irvine-based chipmaker Broadcom Corp. has agreed to be acquired by Avago Technologies Ltd. for $37 billion.
Singapore-based Avago said it will pay $17 billion in cash and $20 billion in stock. Broadcom investors will own about 32% of the combined company.
Broadcom shares jumped by about 18% yesterday on talks of the deal to $34 billion in market capitalization. Shares today are trading down about 2.7%.
Avago stock moved up about 9% yesterday and is trading flat midmorning, at a market cap of about $36 billion.
Broadcom specializes in communication combo chips, which power Bluetooth, Wi-Fi, near-field communication and RF radio applications. Its products are in some of the world's most popular smartphones, made by Apple, Samsung and HTC, among others.
Avago said the combined company will adopt the name Broadcom Ltd. and that Hock Tan, Avago's president and chief executive, will continue to serve in those roles.
Broadcom cofounder and Chairman Henry Samueli will be named chief technology officer of the combined company and join the board. Cofounder Henry Nicholas will serve in a strategic advisory role, according to a statement.
The combined company is expected to have annual revenue of about $15 billion. Broadcom last year had $8.4 billion, and Avago had about $4.3 billion for the 12 months ended November 2.