Tilly's Shares Fall on Mixed Q1
Wednesday, May 27, 2015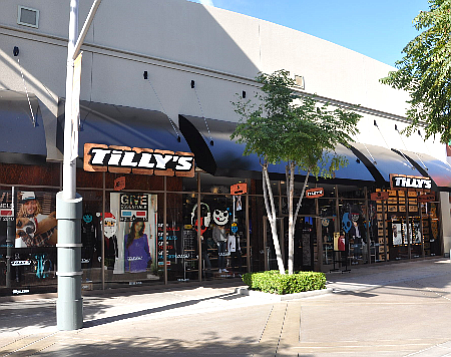 Tilly's Inc. beat Wall Street expectations on earnings but slipped on revenue in the first quarter of its fiscal 2015, and shares fell more than 20% in Thursday trading.
In midday trading the Irvine-based apparel, footwear and accessories retailer's shares were down 23.5%, dipping below $10 to a market value of $282 million.
The company reported results after markets closed Wednesday.
Tilly's reported $1.28 million, or 5 cents per diluted share, in net income for the quarter that ended May 2. That compares to net income in the first quarter of fiscal 2014 of $0.59 million, or 2 cents per diluted share. Analysts expected income of 4 cents per share.
Tilly's had $120.2 million in revenue, an increase of 8.1% compared to $111.1 million in the first quarter of 2014. Analysts had anticipated $121 million in revenue.
The retailer operates 213 stores and the tillys.com e-commerce website, both of which carry Orange County-based brands, including Volcom, Quiksilver, Billabong and Vans. Its same-store and e-commerce sales increased 2% compared to the same period in 2014.
President and Chief Executive Daniel Griesemer said in a statement Tilly's showed "continued progress" toward profitability, and he cited earnings and same-store sales growth compared with Tilly's results in the same quarter a year ago. He said the retailer "ended the quarter with inventory well positioned for the summer and back-to-school seasons."
Tilly's said it expects its second quarter net income to be 1 cent to 5 cents per diluted share.