Broadcom Shares Surge Wednesday on Takeover Talks
Wednesday, May 27, 2015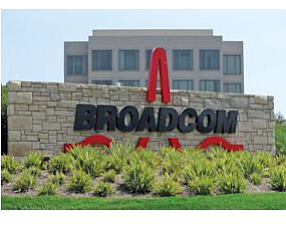 Shares of Broadcom Corp. surged in afternoon trading Wednesday amid media reports that the Irvine-based chipmaker is in negotiations to be acquired by Avago Technologies Ltd.
Investors seized upon the chatter, first reported by Dow Jones, sending shares up more than 17.5% to a market value of about $33.2 billion.
Broadcom specializes in communication combo chips, which power Bluetooth, Wi-Fi, near-field communication and RF radio applications and are in some of the world's most popular smartphones, made by Apple, Samsung and HTC, among others.
Shares of Singapore-based Avago are up more than 8.6% to a market value of about $36.3 billion.
Broadcom spokeswoman Jen Baumgartner didn't immediately respond to inquiries, but Broadcom has a long-standing policy of declining to comment on pending deals or rumors of this nature.
If a deal is reached, it would be among the priciest in years in the highly consolidated chip sector and a major blow to the local technology sector.
Broadcom has overcome Western Digital Corp. to become Orange County's most valuable company. surpassing the Irvine-based storage products maker in recent years as the smartphone war between Apple and Samsung took hold and the Internet of Things market exploded.
Broadcom has been frequently mentioned as a takeover target and as an acquisitor in recent months