Taylor Morrison Buys Pacifica San Juan Site in SJC
Thursday, May 21, 2015
Share this article: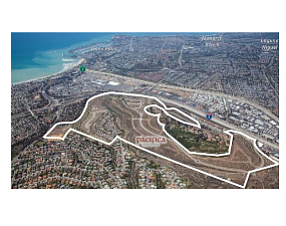 A venture that includes Scottsdale, Ariz.-based Taylor Morrison Home Corp. has bought the stalled Pacifica San Juan home development in San Juan Capistrano.
Taylor Morrison partnered with Oaktree Capital Management LP of Los Angeles and DMB Pacific Ventures LLC of San Francisco to buy the land from Lehman Brothers Holdings Inc.
Terms of the deal were not immediately disclosed.
When the property was listed for sale last year by the Irvine office of Land Advisors Organization, reports put a $150 million expected sales price for the property, which has 318 home lots.
Another 98 homes are already built at the development, which saw construction stalled amid the last recession and Lehman's bankruptcy.
Pacifica San Juan is located just off the San Diego (I-5) Freeway, on a bluff overlooking much of San Juan Capistrano and Dana Point.
The 194-acre property is expected to hold six product lines ranging from small attached lots to estate lots with ocean views, as well as a 7.3-acre school site, according to prior reports.
The new owners said they intend to restart the community and complete the development plan as it was originally envisioned.
The deal represents the second notable purchase of a former Lehman residential asset in Orange County by Taylor Morrison.
Last year, the home builder partnered with Oaktree and Fort Worth, Texas-based TPG Capital to buy San Clemente's Marblehead residential development, for an estimated $205 million. Marblehead is slated to hold 308 luxury home sites; sales are expected to begin later this year.