El Pollo Loco Sets Dallas Plan
Thursday, May 21, 2015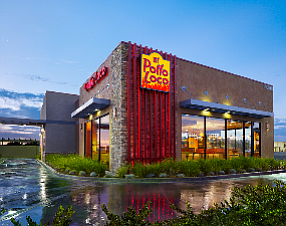 El Pollo Loco said it plans at least 20 restaurants for a previously announced expansion into Dallas, to include seven franchised by an affiliate of local family office, Henry Investment Group.
The Costa Mesa-based fast food chicken chain said the first franchised location in Dallas from the affiliate, Chicken Time Holdings LP, is planned for next year.
El Pollo Loco has targeted expansion plans on the U.S. Southwest and signed agreements with area franchisees to handle some of the growth.
Fremont, Calif.-based AA Pollo Inc. agreed in August to buy El Pollo Loco's six San Antonio locations and open eight new stores there.
The same company also said it planned to add the first of 12 planned franchised restaurants in Houston in 2016, where El Pollo Loco also has or plans five to seven company-owned locations.
A group of franchisees that operates 13 Southern California locations agreed in March to open five sites in Utah.
El Pollo Loco also wants to add restaurants in Northern California, Arizona, Colorado, New Mexico and Nevada.
It costs about $425,000 to $800,000 to open a franchised location, excluding real estate. The single-unit franchisee fee is $40,000.
The chain has about 415 restaurants, 40% company-owned and most in California, with average unit volumes approaching $2 million.