Southwest to Add Missouri, Mexico Routes From JWA
Thursday, May 14, 2015
Share this article: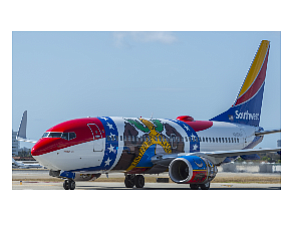 Southwest Airlines said it would start flying to Kansas City and St. Louis from John Wayne Airport on Nov. 22.
It also plans on Nov. 7 to add an additional flight to its current Cabo San Lucas/ Los Cabos route, and a second flight to its new, previously announced, Puerto Vallarta route, which begins service June 7.
One more flight each to Phoenix and San Francisco is planned to begin Nov. 1, Southwest said.
The two new Missouri destinations further tie Dallas-based Southwest to the Midwest U.S. from JWA. It plans to add previously announced routes from John Wayne to Chicago (Midway) and Austin, Texas this summer.
"We're in the business of connecting people to what's important in their lives," said Southwest Senior Director of Network Planning and Performance Dave Harvey.
"Kansas City and St. Louis have robust manufacturing, health care and financial business sectors," and the flights would improve business connections with those industries there, said Laura DeSoto, chairwoman of the Orange County Business Council and member of the John Wayne Airport Air Service Task Force.
The expanded service to Mexico continues recent efforts by John Wayne Airport to expand service to that country. Alaska Airlines plans to begin flights to Los Cabos and Puerto Vallarta in October.
Southwest's total of two new routes and six new flights would bring the airline's John Wayne Airport numbers to 66 daily nonstop flights and 18 destinations, up from 50 flights and 10 destinations at this time last year.
Southwest started service to Orange County in 1994 and is the airport's busiest airline based on daily departures, the company said, and on number of passengers served each month, according to airport figures.
"We're absolutely committed to Orange County," Harvey said.