El Pollo Loco Down on Comps, Guidance
Thursday, May 14, 2015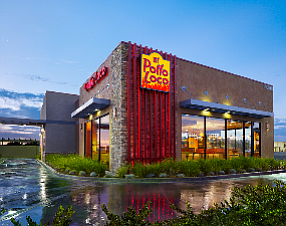 Shares in Costa Mesa-based El Pollo Loco Holdings Inc. fell about 11% in after-hours trading as same store sales growth slowed and the fast food chicken chain offered full-year earnings guidance below analyst estimates.
The company said it earned $6.8 million in its most recent quarter, compared with $5.5 million in the same period last year, on revenue of $90.4 million, up from $81.4 million year-over-year.
Offsetting these increases in the mind of the market were lower comparable-restaurant sales growth of 5.1% in the first quarter, compared with 7.6% in the previous quarter.
The company said it expects comparable-restaurant sales growth of 3% to 5% for the year, and estimated full-year earnings growth of 21% to 25% year-over-year, but at the lower-end of analyst expectations.
Shares, which had risen 3% to $29.06 and a $1.1 billion market cap during the trading day, dropped to about $26 a share and a $990 million market cap, after markets closed.