Midday Stock Roundup
Wednesday, May 6, 2015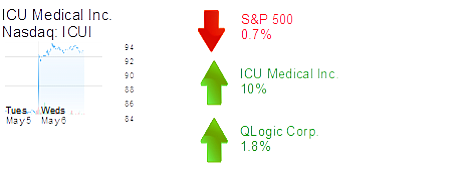 The S&P 500 was down 0.7% to 2,075.22.
The Dow Jones Industrial Average was down 0.7% to 17,797.91. The Nasdaq was down 0.7% to 4,905.11.
The yield on a 10-year Treasury bond was up 3.1% to 2.24%.
The price of gold was down 0.3% to $1,190.
HEALTHCARE
San Clemente-based ICU Medical Inc. was up 10% to $92.57 and a $1.5 billion market cap. After markets closed yesterday the device maker reported first quarter net income of about $82 million, up 11% compared with $73 million in the same period last year, and earnings of about $10 million, up 45% compared with $7 million in the same period last year.
Irvine-based HCP Inc. was down 1.6% to $38.92 and an $18 billion market cap. RBC Capital maintained an "underperform" rating on the stock with a price target of $38.
TECHNOLOGY
Aliso Viejo-based QLogic Corp. was up 1.8% to $14.65 and a $1.3 billion market cap. Argus Research upgraded the storage networking products maker's shares to "buy" with a price target of $19.
RESTAURANTS
Irvine-based Habit Restaurants Inc. was down 4.2% to $36.70 and a $950 million market cap. Shares in the fast-casual burger chain are settling back into its recent trading range on high-volume profit-taking after last week's positive quarterly report.
RETAIL
Irvine-based Boot Barn Holdings Inc. was up 3.1% to $24.10 and a $620 million market cap. In a regulatory filing, hedge fund Garnet Equity Capital Holdings Inc. said it now owned a small stake in the western apparel retailer.
AGRICULTURE
Newport Beach-based American Vanguard Corp. was up 2.2% to $13.39 and a $390 million market cap. BB&T Capital initiate coverage on the company with a "buy" recommendation and a price target of $15.