Pyott Gets $534M on Allergan Sale
Originally published March 31, 2015 at 2:24 p.m., updated March 31, 2015 at 3:33 p.m.
Share this article: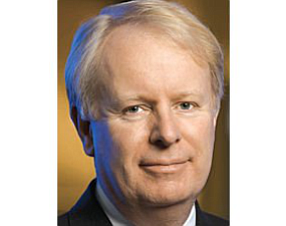 David Pyott, the former chief executive of Irvine-based Allergan Inc., converted stock to a total of $534 million in cash following Allergan's $72.5 billion acquisition by Actavis Plc, according to a Securities and Exchange Commission filing.
Pyott traded some 3 million stock options for $497 million in cash on March 17, the day when Actavis wrapped up its acquisition of Allergan, according to the filing.
Pyott, who had run Allergan for 17 years, also got $36.9 million through trading more than 285,000 shares and restricted shares of stock. Allergan's market value grew from $2.3 billion in 1998, the year Pyott arrived, to some $70 billion at the time of the deal's close.
The veteran chief executive does not have any role with the combined company, which is expected to take the Allergan name and primarily operate from New Jersey, with its legal headquarters in Dublin, Ireland.
Allergan's Dupont Drive campus in Irvine is expected to be the combined company's specialty drug hub.