Midday Stock Roundup
Monday, March 30, 2015
Share this article: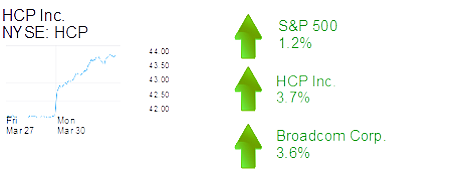 Major stock indices rose in midday trading on confidence in the housing market and equity deals in the healthcare market and in Europe.
The S&P 500 was up 1.2% to 2,086.54. The Dow Jones Industrial Average was up 1.6% to 17,991.26. The Nasdaq was up 1% to 4,944.52.
The yield on a 10-year Treasury bond rose 0.2% to 1.95%.
The price of gold fell 1.2% to $1,185.
HOMEBUILDING
OC builders trended higher on the National Association of Realtors report that its index of pending home sales rose a seasonally adjusted 3.1% in February compared with last month. Economists had expected a 0.5% hike.
Irvine-based Tri Pointe Group Inc. was up 2.5% to $15.39 and a $2.5 billion market cap. Irvine-based Standard Pacific Corp. was up just under 1% to $9 and a $2.4 billion value in its common stock. Newport Beach-based William Lyon Homes was up 3.5% to $25.40 and an $800 million market cap. Aliso Viejo-based New Home Co. LLC was up 4.4% to $15.85 and a $262 million market cap.
HEALTHCARE
Irvine-based HCP Inc. was up 3.7% to $43.70 and a market cap of $20 billion. The healthcare REIT signed a new lease deal with its largest client, Toledo, Ohio-based HCR ManorCare Inc., reducing the latter's rent on 333 facilities by $68 million a year in exchange for fee ownership in nine new properties and an extension in the length of the lease terms by five years, among other elements. New lease terms begin Wednesday, April 1.
Irvine-based Masimo Corp. was up 3.4% to $32.92 and a $1.7 billion market cap. The device maker said a new clinical study showed positive results from the company's "latest noninvasive patient monitoring parameter."
TECHNOLOGY
Irvine-based Broadcom Corp. was up 3.6% to $44.04 and a $26.4 billion market cap. Tokyo-based Nomura upgraded the chipmaker to "buy" from "neutral" and raised its price target to $50.