Midday Stock Roundup
Wednesday, March 25, 2015
Share this article: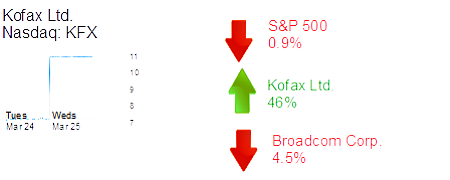 Major stock indices declined in midday trading on a market sell-off in technology stocks.
The S&P 500 fell 0.9% to 2,073.44. The Dow Jones Industrial Average was down 1.1% to 17,815.49. The Nasdaq was hardest hit, down 1.7% to 4,910.66.
The yield on a 10-year Treasury bond rose 1.6% to 1.91%.
The price of gold rose 0.5% to $1,197.
TECHNOLOGY
Irvine-based Kofax was up 46% to $10.94 and a $960 million market cap. The software maker said it would be acquired by Lexington, Ky.-based Lexmark International Inc. for $11 a share.
Irvine-based Broadcom Corp. was down 4.5% to $42.57 and a $25.5 billion market cap, as part of the broader decline in technology stocks, with the chipmaker's shares trading at higher-than average volume by midday.
SERVICES
Irvine-based Ubiquity Inc. was up 12% to 44 cents and a $50 million market cap. The technology licensing company said it signed a deal for expanded distribution of its Sprocket product platform in Southeast Asia.
RETAIL
Anaheim-based Pacific Sunwear of California Inc. was down 1.7% to $2.89 and a $200 million market cap. The apparel retailer reports earnings today after markets close.
FOOD
Newport Beach-based SnackHealthy Inc. was up 53% to $2.15 and a market cap of $24 million. About 10,000 shares had traded by midday, compared with a 90-day, full-day average of 1,750. Shares of the beverage and snacks maker rose 40% yesterday on similar trading levels.