Taco Bell Considers Design, Delivery
Tuesday, March 24, 2015
Share this article: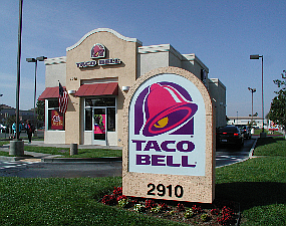 Irvine-based Taco Bell Corp. said it plans to test new store designs as well as food delivery, according to trade journal Nation's Restaurant News.
The fast food chain showed an example of a possible new kind of unit—made from a shipping containers–last week at the South by Southwest Music Conference and Festival in Austin, Texas.
Other options include smaller units for sites where standard-sized restaurants won't fit, such as dense areas of cities.
Last month a Tokyo-based restaurant operator said it would open Taco Bell franchises in Japan. That's an early step in an international expansion plan by the fast-food chain, which has the vast majority of its 6,000 or so restaurants in the U.S.
The company is currently testing catering in Houston, according to Chief Executive Brian Niccol, and the program could dovetail with the test on food delivery later this year.
Other upcoming initiatives for Taco Bell, a subsidiary of Louisville, Ky.-based Yum Brands Inc., include an expanded loyalty program more connected to its digital marketing efforts and a nod toward trends in environmentally friendly packaging and sourcing humane meat.
"We're continuing to move Taco Bell into its own category," Niccol said.
Louisville, Ky.-based Yum Brands Chief Executive Greg Creed told the UBS Global Consumer Conference in Boston this month that Taco Bell was the "Millennial Brand."
Creed left the chief executive's post at Taco Bell at the end of last year for the top job at Yum.
Taco Bell is the largest restaurant chain based in Orange County with nearly $8 billion in annual sales.