UCI Chancellor Emeritus Peltason Dies
Monday, March 23, 2015
Share this article: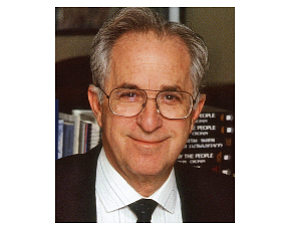 Jack Peltason died Saturday at 91.
He was chancellor emeritus of University of California-Irvine and emeritus president of the UC System.
Peltason served as UCI's chancellor from 1984 to 1992, and was president of the UC system from 1992 to 1995.
He was president of The Donald Bren Foundation, chaired the leadership council for UCI's Center for the Study of Democracy, and served on boards, including those of the Irvine Health Foundation, the Irvine Barclay Theatre, and Soka University of America.
Peltason began his UCI work in 1963 as dean of arts, letters and science, recruiting faculty and building programs before the campus opened in 1964. He was then vice chancellor of academic affairs for three years.
He received the UC System's President's Medal in 2014. The Jack W. Peltason Endowed Chair was established in his honor with a $1 million gift in 2007. A main street at UCI was named for him in 1997.
His service at UCI was interspersed with a role as president of the American Council on Education in Washington, D.C. from 1977 to 1984, and positions at the University of Illinois' Urbana campus, where he taught from 1951 to 1963, served as dean, and was its first chancellor from 1967 to 1977.
Peltason is survived by his wife Suzanne, three children, seven grandchildren, and five great-grandchildren.