Midday Stock Roundup
Friday, March 20, 2015
Share this article: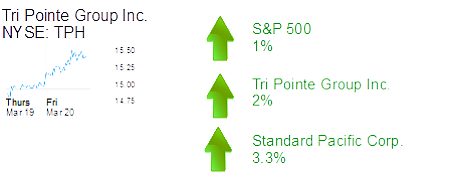 Major indices climbed in midday training on easing fears of a hike in interest rates by The U.S. Federal Reserve.
The S&P 500 was up 1% to 2,109.78. The Dow Jones Industrial Average was up 1% to 18,148.76. The Nasdaq was up 0.8% to 5,034.56.
The yield on a 10-year Treasury bond fell 1.8% to 1.94%
The price of gold rose 1.5% to $1,186.
HOMEBUILDERS
Orange County-based builders were up on the strength of an earnings report by Los Angeles-based KB Homes.
Irvine-based Tri Pointe Group Inc. was up 2% to $15.32 and a $2.5 billion market cap. Irvine-based Standard Pacific Corp. was up 3.3% to $8.93, valuing its common stock at about $2.4 billion. Newport Beach-based William Lyon Homes was up 3.5% to $23.43 and a $737 million market cap. Aliso Viejo-based New Home Co. LLC was up 1.3% to $14.84 and a $245 million market cap.
RETAIL
Orange County-based retailers continued to climb based on their earnings reports.
Irvine-based Tilly's Inc. was up 5.4% to $16.45 and a $462 million market cap. Huntington Beach-based Quiksilver Inc. rose 8.3% to $2.22 and a $380 million market cap. Anaheim-based Pacific Sunwear of California Inc. was up 2.8% to $2.92 and a $202 million market cap.
Tilly's and Quiksilver reported this week; PacSun reports next week.