El Pollo Loco Up on Q4 Results
Thursday, March 12, 2015
Share this article: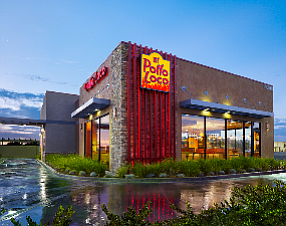 Shares in Costa Mesa-based El Pollo Loco Holdings Inc. are up about 14% in midday trading to a market cap of $1 billion on positive quarterly and annual numbers delivered after markets closed yesterday.
"We're very proud of what we've accomplished," said company President and Chief Executive Steve Sather in an interview.
The fast food chicken chain said fourth quarter revenue was $90 million, up about 12% year-over-year from about $76 million. El Pollo Loco earned $4.6 million compared with a loss of $18 million in the same period last year.
Pro forma net income for the quarter was up more than 60%—$5.5 million compared with $3.4 million.
Same-store restaurants sales were up 7.6% overall, with comparable sales at franchised restaurants clocking in 1 percentage point higher at 8.6%.
The company reported full-year income up about 8% to about $345 million.
Net income was $42.5 million compared to a net loss of about $17 million.
Pro forma net income was $21.5 million, almost 25% higher than 2013's full-year total of $17.3 million.
Sather attributed the prior year's losses to debt that has since been refinanced. El Pollo Loco has cut its annual interest from a high of about $40 million in 2013 to less than $5 million now.
The chain has 416 locations in the Southwest U.S., mostly in California. About 40% are company-owned, with 60% franchised. It ranked No. 3 on the Business Journal's most recent list of OC-based restaurant chains.