Chicago Buyer for Del Taco
Thursday, March 12, 2015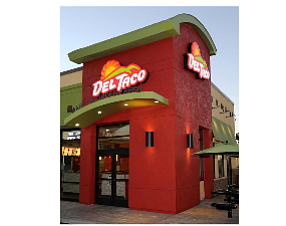 Chicago-based blank check company Levy Acquisition Corp. plans to buy Lake Forest-based Del Taco Holdings Inc. in a deal that values Del Taco at about $500 million, according to Levy.
The deal is set to close in June.
Levy said it will change its company name to Del Taco Restaurants, Inc., with shares in the new company to continue trading publicly on Nasdaq under Levy's "LEVY" ticker symbol.
Del Taco headquarters will remain in Lake Forest with the current management team expected to stay in place.
Larry Levy and two of his sons will join the chain's board of directors.
Levy Acquisition Corp. was founded by restaurateur Larry Levy in October 2013. The company raised $150 million in an initial public offering that November.
The blank check company was formed specifically to invest in or buy another company in the food or hospitality industries.
The deal, if completed, will be the largest reverse merger featuring an Orange County company since 2006, when Newport Beach chip plant operator Jazz Semiconductor Inc. was bought by Acquicor Technology Inc., a Newport Beach-based shell company that was formed by Apple cofounder Steve Wozniak and others. That deal was valued at $260 million.
Del Taco has about 550 Mexican-style fast food restaurants in 16 states. It owns about 300 of those locations, with the rest franchised.
The chain had system-wide sales of about $656 million in 2014, according to Levy, 5.4% up, year-over-year, compared with 2013. 2014 same-store sales growth was 5.2% with average unit volumes of $1.2 million.
It ranked No. 4 on the Business Journal's most recent list of OC-based restaurant chains in June 2014.
Del Taco is currently owned by several private equity firms including Goldman Sachs Mezzanine Partners, Charlesbank Capital Partners and Leonard Green & Partners LP.
After the purchase Del Taco is set to be 8.5% owned by the Levy family, 31% by other new investors, 9.3% by two investors in a private placement, and 40% owned by Levy Acquisition Corp.'s public shareholders. Its current owners, including management, will retain 11.2% of the new company.