Peri, Olloclip Part of Amazon Launch
Wednesday, March 11, 2015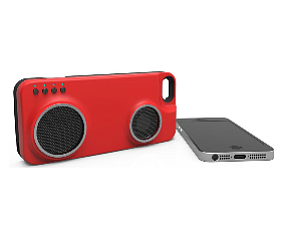 At least two Orange County consumer electronics makers will get prime positioning on Amazon.com Inc.'s new marketplace launched today.
Irvine startup Peri Inc. and Huntington Beach-based Olloclip are among a handful of emerging companies set to distribute certain products on Amazon Exclusives.
Indiegogo-funded Peri is developing a high-end smartphone case that's also an audio speaker and charger. The product is slated to ship to crowdfunding backers in July before it launches on Amazon Exclusives.
"Amazon is going after innovative platforms," said Chief Executive Mohammad Tabatabai. "To them it's important to work with companies that are up and coming."
Kickstarter-backed Olloclip, which makes removable and clip-on double-sided camera lenses for Android and Apple mobile devices, has captured industry accolades for its product, sold in more than 90 countries.
"In the retail stores like Apple, there's only so much space," said founder Patrick O'Neill, a recipient of the Business Journal's Excellence in Entrepreneurship Award last year.
Amazon shares were down less than 1% at the close of intraday trading Wednesday with a market value of about $170.1 billion.