LOCAL INFRASTRUCTURE, GLOBAL VISION BEHIND OC LEGEND
How Henry Did It
Monday, March 2, 2015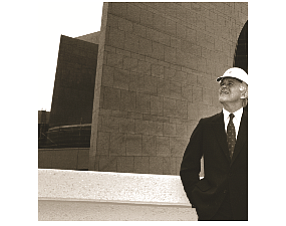 He struck a deal with a cannery on Newport Harbor, and another with frozen orange juice producers in the area.
One leasing transaction was different, and it served as a revelation about the postwar U.S. economy and a different future coming to Orange County. Henry leased warehouses to "a developer and manufacturer of stainless steel honeycomb core," a breakthrough technology product that was to be used for the skin of the B-58, a supersonic bomber for the U.S. Air Force.
"Exposure to this kind of technology led us to think of our family's future in different ways from our neighbors, who were still only in farming," he said.
That was about the time that Henry served as an usher at an Army friend's wedding in San Francisco and met and fell in love with Yvonne de Chavigny, a San Francisco debutante who was the daughter of a French mother and niece of a high-ranking aide to Gen. Charles de Gaulle.
Yvonne was—and is—an artist, painting in watercolors and other materials. She and Henry were married in Paris in 1950 by Pierre de Gaulle, who was mayor of the city and brother of the famed general. It was on that wedding trip that Yvonne introduced Henry to the Louvre Museum and he became aware and appreciative of great art.
The 1950s were a decade of prosperity, when Orange County's population trebled, thanks in large part to the completion of OC Santa Ana (I-5) Freeway, which opened the to large-scale residential development.
Many farm families sold their land to housing developers.
The Segerstroms did not.
The family had petitioned in 1950 to have their property declared the Segerstrom Industrial District, a zoning designation that would have required political approval from the city of Santa Ana, where there was opposition.
"Santa Ana political representatives said that all of our land should be residential," Henry recalled.
That would have meant greater tax revenue than industrial properties were likely to generate for Santa Ana.
Henry fought city hall and won.
"Because I had appeared before the board of supervisors on other occasions, they had confidence in my recommendations, and so we were able to get the zoning for the Segerstrom Industrial District," he said.
Most of the Segerstroms' holdings soon became part of a different city, called Costa Mesa, which the family helped create.

Indeed, the Segerstroms owned property in an unincorporated patch between Santa Ana and newly formed Costa Mesa in the 1950s.