LOCAL INFRASTRUCTURE, GLOBAL VISION BEHIND OC LEGEND
How Henry Did It
Monday, March 2, 2015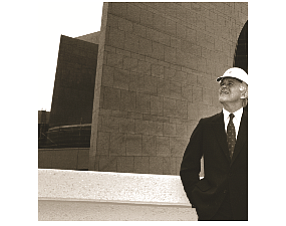 Henry Segerstrom was renowned, of course, as creator of South Coast Plaza and a patron of art and music.
Less known is his role as a public service pioneer of Orange County's development as a modern, cosmopolitan society.
Yet that was how he first made his mark.
The arc of Segestrom's enormous effect here began shortly after he recovered from wounds sustained in World War II. The young officer was treated at Dibble Memorial Military Hospital in Menlo Park, not far—who ultimately lost an index finger—from Stanford University, where he graduated in 1948.
Segerstrom returned to an Orange County landscape that didn't feature much more than farming. Henry's hometown of Santa Ana had fewer than 50,000 people, good for one-fourth of OC's population. Most of the land was undeveloped. The city of Irvine did not exist, nor did Costa Mesa.
Segerstrom immediately got involved in the stirrings of change, with his name put up as a candidate for the Federal government's Agricultural Stabilization Committee, which was to restore normal operations to farm holdings as the post-war era took hold.
"I didn't ask for that, I didn't seek it," Henry told me in an interview two years ago for his biography, "Henry Segerstrom and the Development of Orange County Society," which I wrote and his family now owns. "But I was nominated and got the highest number of votes. So I became chairman of the Stabilization Committee. And that is what put me into the political arena of Orange County and opened doors for many additional leadership roles in the county."
Henry would go on to help organize Orange County's transit systems and would lead the Orange County Water District for more than two decades.
But first he found opportunity with the transformation of the Segerstrom family farm, which had been converted to the Santa Ana Army Air Base and had housed 47,000 personnel during the war. The federal government sold a 76-acre chunk of the land, including a rail spur and some warehouses, back to the Segerstroms for roughly $100,000 the same year he returned from Stanford.
Warehouses
The family business was in the hands of Henry's father, Anton, and three uncles, Harold, William and Fred. The elder generation didn't really know what to do with the warehouse properties.
Henry had ideas.
"I talked to my father and uncles and asked if they would let me try to lease the warehouses," he recalled.
Prev Next