El Pollo Loco Plans to Expand in Utah
Monday, March 2, 2015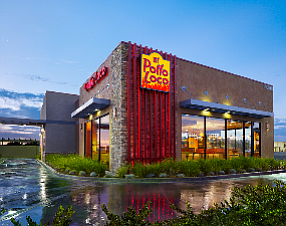 Costa Mesa-based El Pollo Loco Holdings Inc. said a group of Southern California franchisees have agreed to open five locations in the Salt Lake City market by 2018.
The fast food Mexican-style chicken chain currently has two locations in Utah: one near Salt Lake City in Lehi, and one in Washington, Utah, which is in the southwestern part of the state.
The franchisees involved in the Utah expansion run 13 locations in Southern California.
El Pollo Loco Chief Executive Steve Sather said the company sees "tremendous opportunity" in Utah.
The chain went public last year and wants to expand in the western U.S., specifically seeking multi-unit deals in Northern California, Arizona, Colorado, New Mexico, Nevada and Texas.
It operates about 400 company-owned and franchised locations in each of those states, except Colorado and New Mexico, with annual systemwide sales of about $658 million.