Midday Stock Roundup
Wednesday, June 24, 2015
Share this article: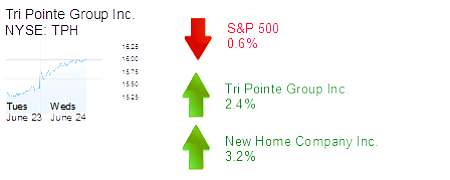 The S&P 500 was down 0.6% in midday trading to 2,111.64.
The Dow Jones Industrial Average was down 0.8% to 18,003.61.
The Nasdaq was down 0.6% to 5,127.07.
The yield on a 10-year Treasury bond was down 1.3% to 2.38%.
The price of gold was down 0.2% to $1,174.
HOMEBUILDING
Orange County homebuilders were up on sector strength from a U.S. Commerce Dept. report showing potential for stronger growth in the second half of this year and ongoing expectations for more company mergers, following last week's announced combination of Irvine-based Standard Pacific Corp. and Westlake Village-based Ryland Group Inc.
Standard Pacific was up 2.5% to $9.13 and a $2.5 billion value on its common stock. Irvine-based Tri Pointe Group Inc. was up 2.4% to $16 and a $2.6 billion market cap. Newport Beach-based William Lyon Homes was up 1.4% to $25.86 and an $813 million market cap. Aliso Viejo-based New Home Company Inc. was up 3.2% to $17.38 and a $287 million market cap.
SERVICES
Irvine-based Local Corp. was down 74% to 7 cents and a $1.8 million market cap. The online search and advertising company filed for bankruptcy yesterday, according to a regulatory filing.