AOCVCB's New Name: Visit Anaheim
Wednesday, June 24, 2015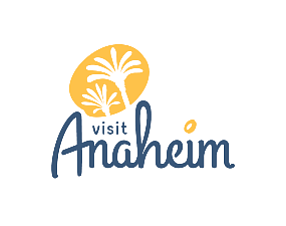 The Anaheim/Orange County Visitor & Convention Bureau has changed its name to Visit Anaheim.
Visit Anaheim Chief Executive Jay Burress said the tourism group's name is simple, recognizable, and an "action term" that fits what different visitors expect when they arrive.
"Everything starts with a visit," he said.
Burress said it's a "fresh and clean" entry into "showing the brand through images in advertising and storytelling that tap the power of imagination … awe … and culture."
Visit Anaheim said the colors, looping font, and overall style of the new logo area are meant to connect elements of the area. The dot over the "i", for example is the same as the Walt Disney Co. logo. The logo also includes a "big A," palm trees, and blue skies and sunshine, according to the organization.
Visit Anaheim plans to introduce the new name and logo today and tomorrow:
• Today in front of the Flatiron Building in New York City, passersby will be asked to interact with a 3D art display that represents Anaheim and post photos of themselves doing so on social media.
• Tomorrow at Center Street Promenade in Downtown Anaheim the display will be part of a local launch event.
Burress said the movable artwork can be used in the organization's ongoing promotional work.
He said Kansas City-based travel marketing agency MMGY Global developed the brand and logo for $120,000.
The group's annual budget of about $15 million is about three-quarters funded by a tourism improvement district.