21st Annual Women in Business Awards Winners Announced
Tuesday, June 23, 2015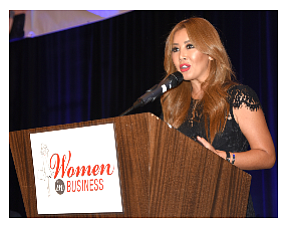 A crowd of more than 800 attended the Business Journal's 21st Annual Women in Business Awards, where cosmetics entrepreneur Toni Ko delivered a keynote address that challenged female entrepreneurs to redefine the benchmarks of success in their professional and personal lives.
Ko founded NYX Cosmetics, which had $93 million in annual revenue before its sale to Paris-based L'Oréal SA last year. She told the crowd—which included 215 nominees for honors—that a key to equality in the workplace requires affording women the opportunity to strike their own balance between their professions and personal lives.
The 2015 honorees were:
• Jane Buchan, Managing Director and Chief Executive Officer of PAAMCO in Irvine.
• Kristen Mauger Allison, President and CEO of Burnham Benefits in Irvine.
• Debra Miller, founder, President and CEO of Cure Duchenne in Newport Beach.
• Susan Beat, Managing Director at MUFG UnionBank, N.A.
• Lisa Vogel, Co-President of Raj Manufacturing Inc. in Tustin.
The Business Journal will profile this year's Women in Business Award winners in the print edition of July 6.