Taco Bell Parent Pursues India Franchise Deal
Monday, June 22, 2015
Share this article: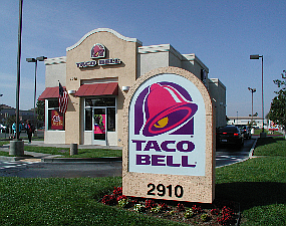 Irvine-based Taco Bell Corp.'s parent company plans to sell franchise rights in parts of India to three private equity firms, a news report in that country said.
The deal appears to be part of a push by the Louisville, Ky.-based Yum Brands Inc. to add 1,000 restaurants in the region over the next five to seven years, across its Taco Bell, KFC and Pizza Hut brands.
The report said the consortium of private equity firms plans to pay about $100 million for 250 to 300 restaurants and rights to more locations in western and southern India.
The report said the acquisition would consolidate locations franchised by four small groups and one medium-sized operator in those parts of India under the private equity firms and Yum's largest India franchisee, Delhi-based RJ Corp.
The move is expected to spur Yum's growth in India by having it work with fewer better-capitalized groups, compared with many small franchisees.
This month Taco Bell opened its first franchised restaurant in India, in a deal with Burman Hospitality Pvt. Ltd., which is run by a family with interests across several industries there, including consumer goods and private equity.
Yum has about 800 restaurants in India spread across its three brands—six are Taco Bells—and has said it wants to double that number by about 2022.
The current expansion talks involved Mauritius-based Samara Capital and India-based CX Partners, plus a third unnamed West Asia-based firm, the news report said.