Midday Stock Roundup
Monday, June 22, 2015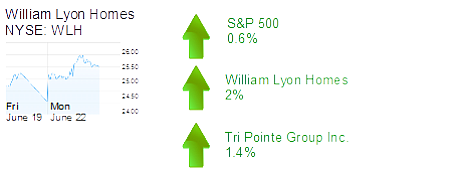 The S&P 500 was up 0.6% to 2,122.77.
The Dow Jones Industrial Average was up 0.6% to 18,117.84.
The Nasdaq was up 0.6% to 5,148.80.
The yield on a 10-year Treasury bond was up 4.4% to 2.37%.
The price of gold was down 1.5% to $1,183.
HOMEBUILDING
OC Homebuilders were up modestly after a National Association of Realtors report Monday said existing home sales rose a seasonally adjusted 5.1% to $5.35 million in May and that the April sales number was revised upward to 5.1 million.
Irvine-based Tri Pointe Group was up 1.4% to $15.54 and a $2.5 billion market cap. Newport Beach based William Lyon Homes was up 2% to $25.46 and an $800 million market cap. Aliso Viejo-based the New Home Co. Inc. was up about 0.5% to $16.85 and a $278 million market cap. Irvine-based Standard Pacific Corp was up slightly; shares in the company increased last week after it announced it would merge with Ryland Group Inc.