Midday Stock Roundup
Thursday, June 18, 2015
Share this article: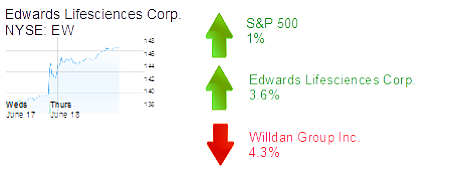 Stock indices were strongly higher in midday trading on a decline in applications for unemployment benefits to a 15-year low, indications from a predictive index that the economy could strengthen in the second half of the year, and yesterday's U.S. Federal Reserve Board decision that it wouldn't yet raise interest rates.
The S&P 500 was up 1% to 2,120.44, the Dow Jones Industrial Average was up 1% to 18,128.45, and the Nasdaq was up 1.3% to 5,128.91.
The yield on a 10-year Treasury bond was up 2.4% to 2.4%.
The price of gold was up 2.1% to $1,201.
HEALTHCARE
Irvine-based Edwards Lifesciences Corp. was up 3.6% to $146.70 and a $15.8 billion market cap. The heart device maker said its Sapien 3 heart valve had been approved by the U.S. FDA for use in certain high-risk patients. Edwards' shares are up about 11% this week.
SERVICES
Anaheim-based Willdan Group Inc. was down 4.3% to $10.66 and an $83 million market cap on high volume. The engineering company's shares had traded at five times its 90-day average by midday.
TECHNOLOGY
Irvine-based Netlist Inc. was up 9.7% to 68 cents and a $34 million market cap on high volume. Shares in the data and memory products maker had traded at a volume 60% higher than its 90-day average by midday.