El Pollo Loco Plans Six More in Utah
Friday, June 12, 2015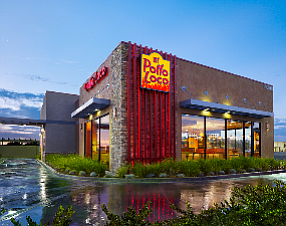 Costa Mesa-based El Pollo Loco Holdings Inc.'s signed its system's largest franchisee to open six restaurants in Utah by 2018.
It's the chicken chain's second deal in the past 90 days that has current franchisees planning units in Utah.
The new agreement, with Lakewood, Calif.-based WKS Restaurant Corp., calls for two restaurants by the end of next year and four more after that.
WKS already runs an El Pollo Loco in Lehi, Utah, and 62 overall, most in California and Arizona.
The company also franchises locations in the Denny's, Krispy Kreme, and Corner Baker Café chains.
El Pollo Loco in March signed a deal for five other Utah restaurants to be opened by 2018 under the name Poco Locos LLC, a group that includes franchisees that operate 13 Southern California locations.
There's one company-owned El Pollo Loco in Utah in the city of Washington.
El Pollo Loco would have 13 restaurants in Utah by 2018 if both groups open all the new locations.
The chain wants area franchisees in Northern California, Arizona, Colorado, New Mexico, Nevada and Texas.
It currently has about 415 restaurants with average unit volumes approaching $2 million.