Katz, Marshack Join Greenberg Gross
Thursday, June 11, 2015
Share this article: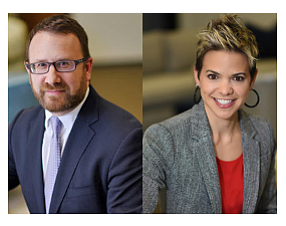 Business litigators Michael Katz and Adrianne Marshack have joined trial law firm Greenberg Gross LLP in Costa Mesa.
Katz for the past three years has headed Irvine-based Katz Yoon LLP, a boutique litigation firm he cofounded in 2012.
He previously was a partner in the Irvine and Los Angeles offices of Morrison & Foerster. His other stints include working as a law clerk to the Honorable Barbara Crabb, former chief judge of the U.S. District Court for the Western District of Wisconsin.
Marshack also was a partner at Katz Yoon. She previously worked at Morrison & Foerster and Manatt, Phelps & Phillips LLP.
Katz Yoon's practice has closed. Melissa Yoon, the other founding partner alongside Katz, left the firm in March to serve as general counsel of Aliso Viejo-based Ambry Genetics Corp., a provider of clinical genetic diagnostics.
Greenberg Gross was founded in 2013 by Wayne Gross, former federal prosecutor and Orange County Bar Association president, and Alan Greenberg, a trial lawyer who specializes in high-stakes commercial cases with a focus on finance, real estate and business transactions.
Gross and Greenberg worked together at Greenberg Traurig LLP before starting their own firm.
Greenberg Gross' recent hires include Evan Borges, former counsel at Irell & Manella LLP, and Michael McMahon, a former associate at Irell.