Quiksilver Down on Quarterly
Tuesday, June 9, 2015
Share this article: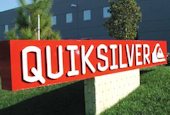 Shares of Quiksilver Inc. fell 38% to 77 cents and a market value of $131 million Tuesday, after it reported a dip in revenue for the second quarter and pulled guidance for the rest of fiscal 2015.
Shares rebounded later in the day but declined again in Wednesday trading to the level of Tuesday's sharp decline after an analyst downgrade, and were trading at about 76 cents midweek.
The Huntington Beach-based apparel manufacturer and retailer posted $333 million in revenue for the quarter that ended April 30, compared with $397 million for the same period a year earlier. It recorded a loss of $37.5 million or 22 cents per share, about the same as last year. Analysts expected $341.24 million in revenue and a loss of 14 cents per share for the quarter.
Revenue for its Quiksilver division decreased $28 million, or 16.7%, to $139 million. Sales for the Roxy division dropped $15 million, or 12.5%, to $105 million. DC Shoes was down $22 million, or 21.3%, to $81 million.
Quiksilver's wholesale revenue declined $56 million, or 19.5%, to $230 million. Same-store sales at company-owned retail stores decreased 6.6% to $84 million. The company owned 719 stores at the end of the quarter, compared with 658 from a year earlier. E-commerce revenue was down 12.9% to $16.1 million.
"In North America, we have intentionally been less promotional in our online product offering to better support our core wholesale business," Thomas Chambolle, Quiksilver's global chief financial officer said during Tuesday's earnings call.
Chambolle withdrew company's previous guidance that assumed "strong profit improvement for the second half of the year, especially in North America."
"Even though our fall order book is increasing in North America, we are still experiencing supply issues that are impacting our sales and our margin," he said. "In addition, we continue to see a decrease in the [direct-to-consumer] channels sales on a comparable basis due to our decision to significantly reduce the number of promotions and discounts on line … we believe that given all the actions being undertaken to correct delivery issues, combined with the sell through rates being experienced by our retail partners, we can drive significant profit improvement in the first half of 2016."
Quiksilver said Andrew Bruenjes will now serve as CFO of its Americas division. Bruenjes worked in a similar role for more than three years for its Asia Pacific region. Veteran Oakley Inc. executive Ted Li will join Quiksilver as head of sales for its Americas region. Li most recently served as vice president of the Foothill Ranch-based sunglass and apparel maker's North America region.