Taco Bell Signs Franchisee in India
Monday, June 8, 2015
Share this article: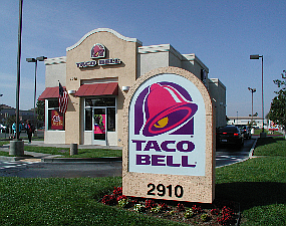 Irvine-based Taco Bell Corp. is set to open its first franchised restaurants in India, according to several news reports.
The Mexican-themed fast food chain plans 25 locations in the next 18 to 24 months, with a mix of franchised and company-owned restaurants
Taco Bell already has six locations in the country—three each in Bangalore and Mumbai—that are company-owned
The first franchised restaurant under the new deal is slated to open this week in a mall in New Delhi, the reports said.
The agreement is with Burman Hospitality Pvt. Ltd. The Burman family has business interests in India in several areas, including insurance, financial services, consumer goods, and a private equity firm called Elephant Capital.
Burman family members are involved in franchising Subway sandwich shops in India, one report said.
Taco Bell's Louisville, Ky.-based parent, Yum Restaurants Inc. operates about 800 of its Pizza Hut and KFC units in India.
It added Taco Bell in India in 2010 with reported plans to open 100 units in the country by this year.
Taco Bell operates more than 6,000 restaurants, with about 5,800 of them in the U.S. Yum said in December it wants to add 1,300 Taco Bell restaurants and $2 billion in sales overseas.
On April 21 it opened its first franchised unit in Japan outside of U.S. military bases there.