Broadcom Has Mixed Q2
Thursday, July 30, 2015
Share this article: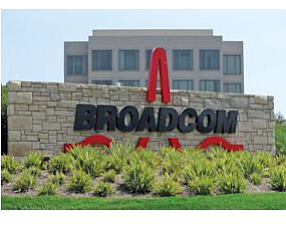 Irvine-based chipmaker Broadcom Corp. after the close of intraday trading reported second-quarter revenue in line with Wall Street expectations and adjusted profits that missed estimates.
The company, which is set to be acquired for $37 billion by Avago Technologies Ltd., posted revenue of $2.1 billion in the recently ended quarter, up 2.7% from a year earlier.
Adjusted profits hit $445 million, or 72 cents per share, up 53.4%. Wall Street was looking for $448.2 million, or 75 cents per share.
Broadcom specializes in communication chips that go into tablets, smartphones, set-top boxes, broadband modems, networking gear and other products.
The company provided guidance on revenue, gross margins, and research and development for the September quarter. It projected revenue between $2.06 billion and $2.21 billion, on the low end of analyst forecasts of $2.24 billion.
It projected gross margins, a key measure for technology companies, to be 54.5% to 56.5%, down from 56.6% in the June quarter.
Spending on research and development is projected to be between $528 million and $544 million compared to $538 million in the recently ended quarter.
Broadcom said it will no longer hold conference calls following quarterly financial reports due to the pending Avago deal, which would create the world's third largest chipmaker, with annual sales of about $15 billion.
Broadcom shares were down just under 1% at the close of intraday trading, with a market value of about $30.7 billion.