Midday Stock Roundup
Wednesday, July 22, 2015
Share this article: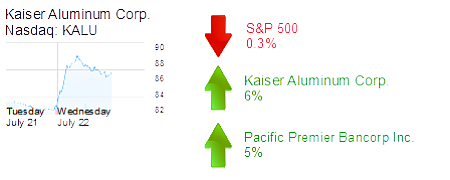 The S&P 500 was down 0.3% in midday trading to 2,113.48.
The Dow Jones Industrial Average was down 0.5% to 17,834.57.
The Nasdaq was down 0.7% to 5,171.57.
The yield on a 10-year Treasury bond was down 0.7% to 2.32%.
The price of gold was down 1% to $1,092.
REAL ESTATE
Orange County homebuilders were up on a National Association of Realtors report that existing home sales grew to an annual rate of 5.5 million, the highest level since February 2007 and above some economists' expectations of 5.4 million. Sales were up by 3% compared with May and by nearly 10% year-over-year.
Irvine-based Standard Pacific Corp. was up 2.9% to $9.12 and a $2.5 billion market value on its common stock. Irvine-based Tri Pointe Group Inc. was up 1.4% to $14.99 and a $2.4 billion market cap. Newport Beach-based William Lyon Homes was up 2.5% to $24.85 and a $784 million market cap. Aliso Viejo-based New Home Co. Inc. was up 3% to $17.73 and a $286 million market cap.
MANUFACTURING
Foothill Ranch-based Kaiser Aluminum Corp. was up 6% to $85.54 and a $1.5 billion market cap. The metal products fabricator beat quarterly expectations on revenue and income.
BANKING
Irvine-based Pacific Premier Bancorp Inc. was up 5% to $17.83 and a $381 million market cap. The bank holding company reported second quarter revenue of $31.5 million and income of $7.8 million, each of which beat analyst expectations by about 12%.