Midday Stock Roundup
Tuesday, July 21, 2015
Share this article: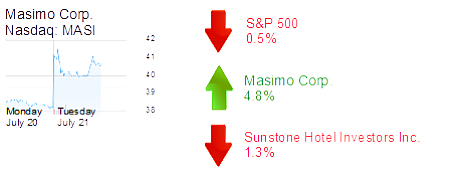 The S&P 500 was down 0.5% in midday trading to 2,116.88.
The Dow Jones Industrial Average was down 1.2% to 17,887.49.
The Nasdaq was down 0.3% to 5,202.05.
The yield on a 10-year Treasury bond was down 1.5% to 2.34%.
The price of gold was down 0.2% to $1,104.
HEALTHCARE
Irvine-based Masimo Corp. was up 4.8% to $40.51 and a $2.1 billion market cap. The device maker issued higher earnings guidance for its second quarter, the results of which are expected to be fully reported Aug. 4.
Irvine-based Endologix Inc. was down 2.8% to $13.93 and a $939 million market cap on high volume. The device maker's shares had traded at about twice the full-day average by midday today. Shares fell about 3% yesterday.
REAL ESTATE
Aliso Viejo-based Sunstone Hotel Investors Inc. was down 1.3% to $15.64 and a $3.3 billion market cap. Shares in the hotel REIT were downgraded to "underperform" by analysts at Bank of America, with a price target of $16.50.
TECHNOLOGY
Newport Beach-based Clean Energy Fuels Corp. was up 8.8% to $6.08 on moderate volume after a 6% decline in yesterday's session.