Taco Bell Up, Yum Down, in Q2
Wednesday, July 15, 2015
Share this article: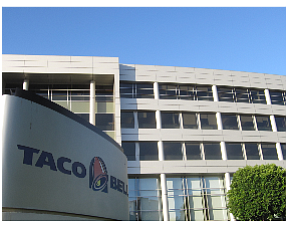 Irvine-based Taco Bell Corp.'s operating profit in the second quarter grew 29% to $140 million compared with the same period last year, its parent company said Tuesday.
System-wide sales at Taco Bell grew 9%, according to Louisville, Ky.-based Yum Brands Inc. The increase came in part on higher breakfast sales and 58 locations opened in the quarter, most of them franchised.
Taco Bell's restaurant margins were 23% in the quarter, an increase of more than 5 percentage points.
"Taco Bell is firing on all cylinders driven by industry-leading innovation and a solid breakfast platform," Yum Chief Executive Greg Creed said.
Yum reported second quarter operating profit at its other two fast food chains, KFC and Pizza Hut, were down 2% to $150 million and 4% to $60 million, respectively, from currency exchanges and lingering woes in the two brands' China operations.
Net income at Yum was down 5% in the second quarter, year-over-year, excluding one-time items.