Midday Stock Roundup
Wednesday, July 8, 2015
Share this article: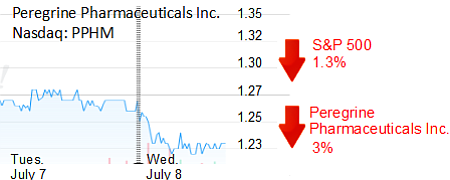 Markets saw sell-offs Wednesday morning on concern over China's stock market.
The New York Stock Exchange temporarily halted trading at midday, due to an apparent technical problem.
The S&P 500 was down 1.3% to 2,053.75.
The Dow Jones Industrial Average was down 1.2% to 17,561.72.
The Nasdaq also was down 1.5% to 4,923.67.
The yield on a 10-year Treasury bond was down 0.5% to 2.22%.
The price of gold was up 0.7% to $1,161.
HEALTHCARE
Peregrine Pharmaceuticals Inc. shares were trading down about 3% to $1.23 a share and a market capitalization of $236.7 million. The Tustin-based biopharmaceuticals company said it will report next week the financial results for its fiscal 2015 ended April. Analysts are expecting a loss of 30 cents a share for the fiscal year, compared with a loss of 22 cents a share for the year prior.